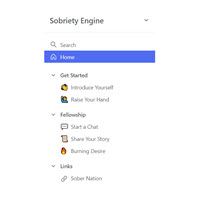 Free Social Network with Mobile and Online Tools. According to the National Institute on Drug Abuse, with a form of support and ongoing care after getting sober, it's possible for relapse rates to decline from the average of 50%. Sobriety Engine is dedicated to providing such support from the easy and comfort of an online network or a mobile device.
Miscellaneous Information
Sobriety Engine
Founded by the creators of Sober Nation as a private and inclusive online sober community, Sobriety Engine is a support group and sober social network platform to provide on-the-go accountability and help maintain your sobriety wherever life may take you.