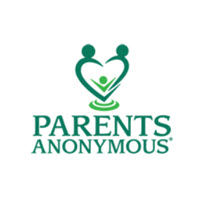 Professional treatment program to prevent child abuse and neglect. Parents Anonymous® Inc. leads an international network of hundreds of accredited organizations and local affiliates that implement quality Parents Anonymous® programs for adults, children and youth. They provide training and technical assistance, develop publications and conduct research on meaningful Parent and Shared Leadership®, and engage in systems reform and effective community-based strategies to strengthen families worldwide. 
Miscellaneous Information
Their mission is to ensure meaningful Parent and Youth Leadership with lived experiences in Shared Leadership® that results in better outcomes for families and communities by advocating, implementing and evaluating across systems through evidence-based Parents Anonymous® Groups, National Parent Helpline®, California Parent & Youth Helpline, Shared Leadership® in Action and National Certification of Parent Leaders and Staff. Parents Anonymous® Inc. is a community of parents, organizations and volunteers committed to:
Building resiliency in all parents, children & youth that mitigates the impact and prevents adverse childhood Experiences that lead to all major health and mental health concerns
Fostering the well-being of parents/caregivers, children and youth and family functioning
Strengthening families and building strong communities
Achieving meaningful parent and youth leadership and Shared Leadership® with agencies, policy-makers and the community
Improving programs, creating meaningful policy change, and contributing to the body of knowledge through research and evaluation efforts
Ensuring that they stand with families by fostering personal empowerment and resilient human spirit to harness vital social capital to support parents/caregivers with any mental health and other related concerns
Parents Anonymous® Inc. was founded in 1969 by Jolly K., a courageous and tenacious mother who sought help to create a safe and caring home for her family and millions of others. Created in California, the Parents Anonymous® Group still stands as the only evidence-based Parent Partner Program according to the California Evidence-Based Clearinghouse for Child Welfare. The program meets weekly, is free of charge to parents and caregivers and is evidenced-based and utilizes mutual support, parental leadership and Shared Leadership® to empower, inspire and create long term positive changes in their families. Children and youth of Parents Anonymous® simultaneously attend weekly groups which utilize the same principles to improve self-esteem, problem solving skills, enhance well-being and create leadership opportunities for personal growth and development. They created the only National Certification of Parent Leaders and National Certification on Shared Leadership® for staff to enhance social capital and ensure high level knowledge, skills and abilities to improve the lives of families and communities.